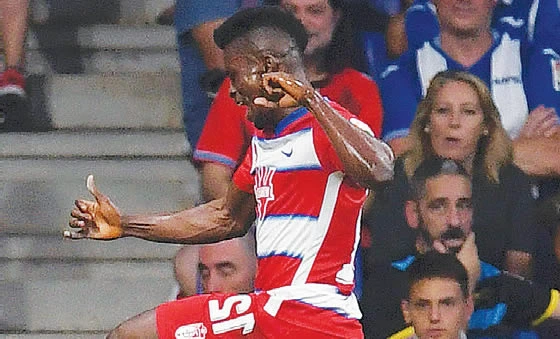 Ramon Azeez
Granada midfielder, Ramon Azeez, has revealed how Barcelona fans in Lagos sent him threat messages warning him not to come to the state after scoring against the Blaugrana in the Spanish Primera Division at the Los Cármenes Stadium last September.
Azeez scored the opening goal in the second minute before an Alvaro Vallido goal from the spot in the 66th minute ensured that the Nazaríes grabbed the maximum three points despite the odds against them.
The 26-year-old said he got lots of messages from angry punters in Nigeria who lost their tickets as his goal helped Granada beat Barcelona.
"Before the Barcelona game, our coach told us that we just have to go out on the pitch strongly because we started the season very well," Azeez told The Cable.
"That we should continue with what we've been doing and when we started the game and within two minutes of play the goal came.
"I feel very happy that some people that never believed in us before the game called to congratulate and rejoice with us.
"I got a lot of messages that night; some people insulted me that I cut their betting tickets, while some called to congratulate me.
"Some of my friends that are Barcelona fans called me, that I scored against their team that I should not worry that it won't be that easy next time.
"Some people even sent me messages on social media that I shouldn't come to Lagos that if they catch me, they will deal with me.
"So, I told them that it was nothing that I just have to do my job and protect it as well."