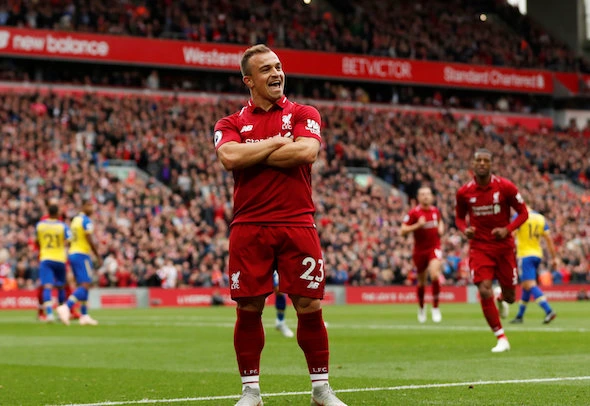 With Mohamed Salah potentially out of Liverpool's game against Crystal Palace, Reds fans are split over whether Xherdan Shaqiri will be given the opportunity to impress in the Egyptian's absence.
The 28-year-old, who joined from Stoke in 2018, has been struggling with an injury but could make a rare start for the Red's in their trip to Selhurst Park next Saturday should he be deemed fit. Salah was replaced late on in Liverpool's 3-1 win over Manchester City last weekend and was forced to miss out on Egypt's international fixtures this week.
Shaqiri is yet to make a start for the Reds this season but seems the natural replacement for Salah if he is deemed fit by manager Jurgen Klopp. The German boss could opt to start Divock Origi in place of Salah after his recent goals from the bench, although some fans feel that Shaqiri may not be the best man to replace Salah as the Reds attempt to extend their lead at the top of the Premier League.
Reaction from fans to Salah's injury worries and Shaqiri's potential return can be seen in the tweets below.

Anfield Edition
@AnfieldEdition
· Nov 14, 2019


Salah out for the next few games


Shaqiri returning to fitness for next game


Is this the perfect timing he needed to finally start?

Lounes
@LounesLFC
Looks like Shaq will never play for the Liverpool shirt again

stricky
@strickyfootball


Replying to @AnfieldEdition
Even then Klopp won't start Shaq

JSpearz
@joespearo


Replying to @AnfieldEdition
Shaq ain't going to fill Salahs boots, especially with being out so long.

Rikef Liban
@AtaqShaq


Replying to @AnfieldEdition
I don't think likes him tbh. Given the chance he can make a big impact I'm sure. Disappointing.
See Rikef Liban's other Tweets

Caleb
@AnfieldDaily1


Replying to @AnfieldEdition
Shaq needs that chance to shine, he's top quality and he can show it.

Irish R&B Singer McLovin
@YahboiNoah


Replying to @JFUTTrader @AnfieldEdition
Agreed, but this is shaqs opportunity, he needs a chance
Fans are seemingly split between wanting Shaqiri to start but also worrying that he may not be Klopp's favourite player at the moment.
What do we think?
Shaqiri, who is valued at £22.5 million (as per Transfermarkt), proved himself as an excellent back-up at times for Liverpool last season; scoring six goals despite primarily featuring from the bench. The Swiss international has plenty of experience after his spells with Inter Milan and Bayern Munich and shouldn't be written off as a reliable option for Jurgen Klopp in cases such as these.