Liverpool confirmed their supremacy over Leicester City and also consolidated their perch on the top of the table with a 4-0 crushing victory over Leicester City at the King Power Stadium. It needed a header from Firmino to open a deluge of goals for the UEFA Champions League winners. Leicester's midfield fell to the superior power of Liverpool.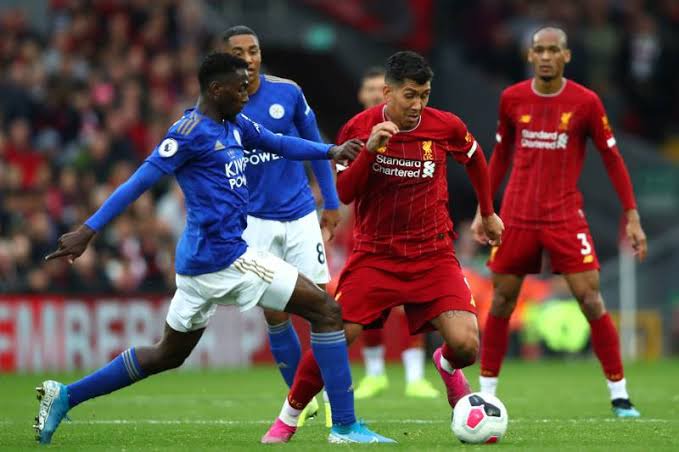 Nevertheless, Wilfred Ndidi was outstanding as usual and fans have taken to Twitter to extol the Leicester midfielder who helped out Johnny Evans and Soyuncu despite being a lone man in midfield. Fans react
" I'm kinda happy for this heavy defeat, this will probably make Ndidi seriously consider Arsenal. Wishful thinking maybe
Man United got Maguire. He's a great player, we just forgot to get Ndidi to do all the cover up.
I think if Xhaka goes, we should definitely snap up Ndidi. Watching today's game and how arteta wants to play, we need someone aggressive, good passer, space sensor of a player. The only light for Leicester in this game although Liverpool were running rings around him
Embarrassing for Leicester, but I have mad respect for General Wilfred Ndidi! Huge presence in midfield.
When was the last time a player whose team has been completely outplayed, managed to deliver an excellent individual performance? Ndidi
Wilfred Ndidi has been Leicester's best midfielder by a fair margin by the way.
Xhaka money + the £40m from Iwobi, enough for Ndidi
I probably have an Ndidi bias because i'm Nigerian. But how can a DM that good be so underrated
Wilfred Ndidi won 5 tackles in the first half vs. Liverpool, 4 more than any other player on the pitch.
100% success rate inside the box
If it wasn't for Schmeichel and Ndidi, I think this would be 5-0 already. So many big big defnsive moments from Ndidi and big saves from Kasper.
Leicester didn't set up to win, they just set up to frustrate Ndidi
Ndidi is a baller
How do you play a Liverpool side without pressing high on them, and what the hell are those short passes at the back about?
Liverpool might as well just take the trophy."