A Nigerian cleric identified as Bishop Zam Zuga, has come out to react to the news of a witchcraft conference set to hold in the University of Nigeria, Nsukka (UNN).
In a post shared on Facebook, Zuga expressed that as long as God is still alive, and he is also alive, the academic conference can never take place.
According to him, other nations are holding conference to move the development of their countries forward, but what is obtainable in Nigeria is academic experts coming together for a witchcraft conference.
South African artistes kick against Burna Boy performing in their country for Africans Unite concert
"As long as God is alive and I am alive.This conference can't hold. When Nations are holding digital conferences to advance technology, Nigeria professors are busy organizing international conference to teach witchcraft," his post read.
Speaking further, Zuga made a reference to the Festival of Arts and Culture (FESTAC), that held in 1977. According to him, holding the festival in the country resulted into an influx of witches into the country.
He said: "What brought poverty in Nigeria is the FESTAC which Obasanjo use Nigeria money to organized, instead of advancing technology at that time with abundant oil money, he rather invited witches all over Africa to Nigeria, Many of them came for FESTAC and refused to go back to their countries.
"That is why God became angry with Nigeria and we become one of the poorest countries of the world."
See a screenshot of his post below:
Alleged dispute with Buhari: Middle Belt leaders send important message to Osinbajo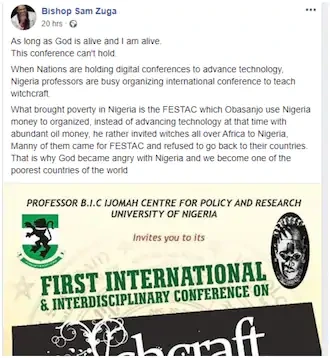 The bishops post on his Facebook timeline. Photo: Bishop Sam Zuga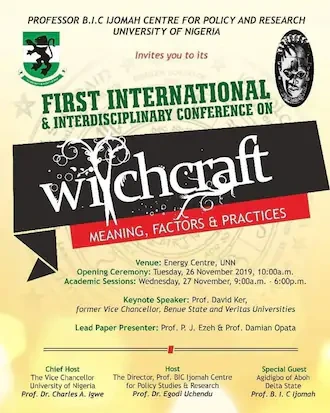 A flyer of the upcoming witchcraft conference. Photo: Bishop Sam Zuga