Shehu Sani, the former senator who represented Kaduna Central at the eighth National Assembly has reacted to a statement made by Retired General Theophilus Danjuma regarding the state of the country.
"If I tell you what I know that is happening in Nigeria today, you will no longer sleep," Danjuma was quoted have said Ibadan, Oyo state, during a book launch.
While the statement has made many wondering what Danjuma knew about that could upset the whole country, Sani in a tweet on Friday, December 20, asked the retired military man to spill the beans.
Why I won't allow Obaseki to create political structure - Oshiomhole
Speaking in his characteristic parable, Sani tweeted: "Dear Baba Gen TY, spill the ordourous, putrid Beans so that the snoring slumberland 'will be awakened' by the insomnia of its truth and of its reality."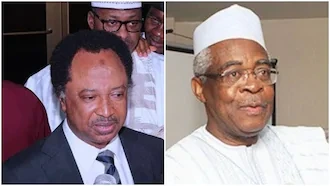 Shehu Sani tells Danjuma to reveal what he knows about Nigeria that could upset the whole nation as he claimed
Like an afterthought again in the early hours of Saturday, December 21, the former Kaduna senator tweeted on the Danjuma statement again.
He claimed, in his usual veiled tweet, that some southern and northern leaders are after Danjuma for his "bitter message".
"Hunters with Bows and Arrows and spears from the South and Turbaned men with swords on Horses from the North, are after the messenger called Danjuma,for his bitter message written on the scroll," Sani tweeted.
He said what the country is facing would not make anyone who is aware sleep soundly.
Danjuma lamented what he called the activities of fifth columnists in the southwest adding that these set of people have not helped the situation.