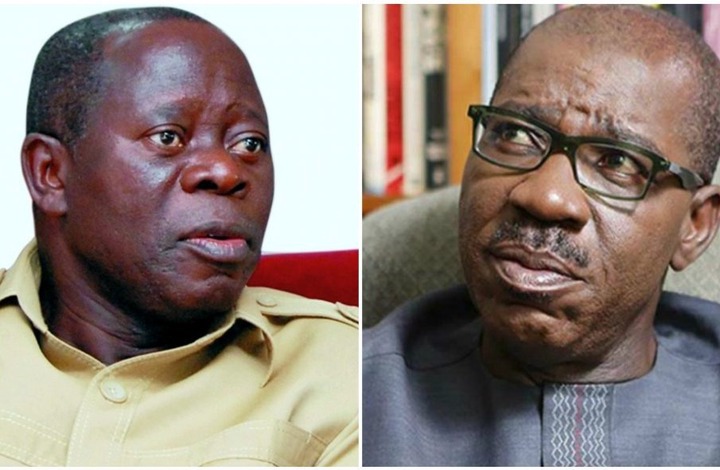 The gesture of the Edo State government lead by Governor Godwin Obaseki in sending three cows and ten bags of rice to the residence of the APC Chairman Comrade Adams oshiomole as Christmas gifts have met stiff criticism, not just from the mother of the APC chairman's mother who rejected the gifts in the first instance, but the Edo state APC secretary Mr Lawrence Okah who labeled the rice and cows are poisonous and a failed attempt by Governor Obaseki to kill Oshiomole through food poisoningMr Okah in a statement commended the mother of the APC Chairman for rejecting the gifts and accused Governor Obaseki of attempt to kill Comrade oshiomole. In His own word "We hail Madam Oshiomhole for rejecting the rice, if the story being cooked from the Edo State Government House is true. Why, because no responsible mother will want the enemies to kill her son. Obaseki has on several occasions threatened to kill Oshiomhole or remove him as National Chairman. The people he told are there alive and can testify to it. So why will he take a poisonous cow and rice to Oshiomhole's house? Is that not deceit.
"Edo State APC commends our mother who also doubles as the mother of APC in Afemai land in rejecting that poisonous gift.
He went further to call Governor Obaseki the proverbial rat that will bite you and at the same time fan the wound.
Earlier , in a statement in Benin, the Special Adviser to Governor Obaseki on Media and Communication Strategy, Crusoe Osagie, stated that messengers from the state government who were dispatched to deliver the conventional Christmas presents reserved for former governors of Edo State to Oshiomhole were turned back.
"The messengers said they met the mother of the former governor, who rejected the items, stating that her son would not accept the gifts.
"The gift items meant for Comrade Oshiomhole include four cows and ten bags of rice," the statement read.
"The distribution of Christmas gifts is an annual ritual by the state government, which serves as an expression of love, further strengthening the ties between the government and the people.
"The gifts are distributed to government functionaries, political appointees, heads of security agencies, traditional rulers, religious leaders, heads of institutions of higher learning, among other prominent people in society.
This is an interesting twist in the rift between Comarade Oshiomole and Gov. Obaseki.
Interesting Days are indeed ahead