Every business in Nigeria is having its toll of the hard times Nigerians are currently experiencing. The oldest profession in the world, prostitution, is no exception.
Sex workers are lamenting low patronage as Christmas approaches and many of them are blaming President Muhammadu Buhari for the development.
They are blaming the president for the hardship Nigerians are experiencing, which has made it difficult to get enough customers these days.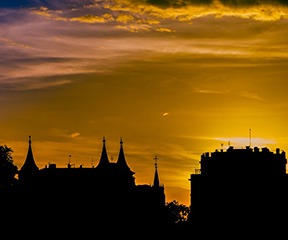 A sex worker simply identified as Esther works at Royale at Oba Akran Road in Ikeja area of Lagos State and the night has been a bad one for her.
The time is 2:30am and Esther hasn't seen any customer since the previous night she came out to work. Yours truly engages in a conversation with Esther, after requesting for a few minutes of her time, which of course will be paid for.
Yours truly understands that Esther may be unwilling to give out details of her profession to a stranger who isn't interested in her service. So, paying for the time she will be spending with me in conversation is just the right thing to do for this piece to come to life.
So, dear readers, follow me…
Esther smiles when I ask how much she and other sex workers charge for short time and overnight.
The sex worker says: "Business has been dull o. Before this yeye government, we usually charge N3,000 for short time and between N7,000 and N10,000 for overnight. But right now we can't afford to lose customers by overbilling them – so we charge them N2,000 for short time and N5,000 for overnight.
"Sometimes, we even settle for N3,000 or N4,000 for overnight when we are desperate for customers.
"Since I came out last night, I haven't seen any customer. You are the first person to approach me. Business has been so dull and this is the only thing some of us know how to do."
Yours truly asks Esther if she thinks she can survive in the business due to the turn of events.
Her response: "Sure I can survive. We've been surviving. It hasn't been easy lately, but no job is easy."
Esther is optimistic and hopeful that the business will get better. Earlier, she says prostitution is the only thing she knows how to do. This means she's sticking to it and not letting go. But I want to be sure if she can quit this job for something else.
"You are right. No job is easy. But do you think you can quit this job for something else?" I ask.
She waits a few seconds before answering the question. She's obviously weighing her options.
She finally says: "No! I can't leave this business. This is the only thing I know how to do. I have a child I'm taking care of. How will she survive if I quit?"
Esther says she's not in the business for the fun of it, but for the money which helps in taking care of herself and her five-year-old daughter.
Apart from Esther, other sex workers are complaining bitterly that their clients have reduced drastically in recent times.
The same day, yours truly is at Allen Avenue in Ikeja. The sex worker I met with is simply identified as Tope.
It is 3:45am and Tope has only had a short time with a client since she resumed business the following day.
Yours truly offers Tope the same deal offered to Esther before the question and answer session.
Tope doesn't have a child she's taking care of, saying she's in the business because of its lucrativeness, but things are no longer the way they were.
She says everyone is experiencing low patronage and that some sex workers fight each other over clients.
According to Tope, sex workers have reduced their charges so as to have as many clients as possible.
Tope says: "I used to charge 2K for short time and 7K or 8K for overnight. But I now charge 1K for short time and 4K or 5K for overnight. Business is bad these days."