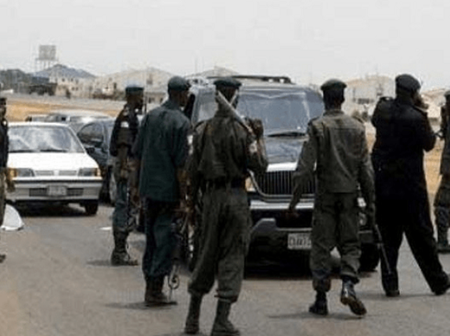 The Biafra-Nigeria war have come and gone since 1970, General Gowon declared No victor No vanquished indicating that everyone will be treated fairly.
Gowon actually introduced the infamous 3Rs - Reconstruction, Reconciliation and Rehabilitation. (Though we have not seen any of these on ground anywhere in Igboland).
Recently I was unfortunate to travel once more from Lagos to Igboland. As a traveler on that road your nightmare starts immediately you get to the Shagamu interchange. From this point I counted over 60 checkpoints enroute Igboland mounted by The regular Police, Mobile Police, SARS, Customs and the Military.
Most of these check points are not up to 500 meters apart, you can actually see check points A and C from check point B.
The operators of the check points which I call MONEY COLLECTION POINTS harass, intimidate, extort, torture and sometimes killed any traveler who tries to challenge them. (these travelers are largely Igbo)
Everywhere in Igboland you will see check points, where the police makes Billions of Naira monthly according to a 2017 report of International Society for Civil Liberties and Rule of Law and South East based Human rights organizations.
They alleged that police check points rakes in up to in 14Billion Naira every 4 months making Igboland the most lucrative check points globally. That due to this money spinning check points, police men allegedly pays bribes so that they can be posted to the East to partake in the largess.
Ohaneze Ndigbo through its president wrote a letter to President Buhari and complained that the day light robbery is so bad that Police men at check points now possess POS machine which they use to extort money from road uses and pleaded with the federal government to come to our aid and remove the Money Collection Points. Weeks later, the Police IG responded that the Check points will not be removed because of some security challenges in Igboland.
Meanwhile, a 2016 Report by The United Nations Development Programme (UNDP), has named the South East as the most human security secured geopolitiucal zone in Nigeria, this is contained in the National Human Development Report for Nigeria. But the government will not take this into consideration as exemplified by the continues maintenance of the outrageous check points.
Few days ago, i was listening to a program on BBC Hausa in the morning and heard Mr. Samuel Aruwan the Kaduna State commissioner for security and Home Affairs talk about the security situation in the state. He implied that people complained about the numerous check points on the dangerous Kaduna-Abuja highway and 'They' removed the check points and replaced them with what he called 'Aggressive Patrols'
Now look at this irony: The Kaduna Abuja highway is home to the 4th most deadly Terrorist group globally, they Kidnap, rob, and kill travelers from the high and the mighty to poor travelers, everyone is a victim. The check points on that dangerous road are removed but the check points on the most peaceful region in Nigeria will not be removed.
It is believed that Igboland has more check points than the Boko haram infested regions of Nigeria. when you travel from Damaturu to Maidugiri how many check points are there?
Igbo land is simply under siege by the powers that be. A silent war is on going.
Have you travelled to Igbo from the North or any other part of Nigeria?
Please, can you share your experience with us?