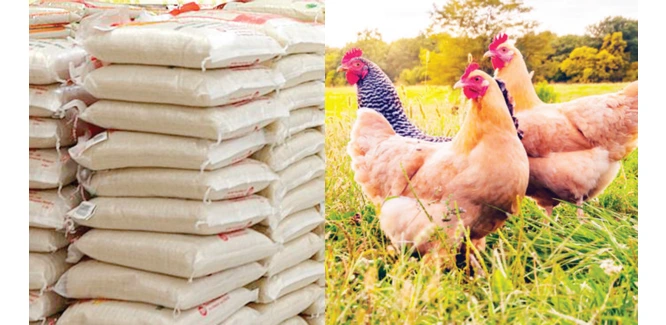 Barely four days to the celebration of Christmas on December 25, report across the country paint a gloomy picture of what is likely to befall Nigerians in the wake of the celebration regarded as one of the most festive Christian holidays across the world.
Though the period celebrates Jesus' Christ birth, investigations across the country reveal that the current socio-economic and political state of the economy is likely to affect the razzmatazz associated with the period, report our correspondents IMO Not a few Nigerians have expressed concerns over the increasing prices of food items in the market as Christmas approaches. Saturday Telegraph market survey indicates that the prices of common food items in the market have all increased with as much as 80 per cent.
For instance, a dealer in food items, Mrs. Ngozi Okereke, told our correspondents that there was a sharp increase in the prices of food items in the market, wondering how holiday makers and residents in the state would be able to cope at Christmas.
According to her, a 50kg bag of local rice sold between N10,000 to N12,000 was presently selling between N24,000 and N25000. Also, a 50kg foreign rice which previously sold for between N17000 to N18,000, was now selling for between N26,000 to N27,000. She said: "Groundnut oil that sold for between N1800 to N2,000 now sells for N2,500 to N2,600. With tomato pack that hitherto sold for N1,120 now sells for N1,500. It has not been easy for Nigerians and it is showing in the level of patronage we get from our customers."
Similarly, a housewife, Mrs. Jossy Patrick, lamented what she described as the staggering prices of chicken in the market. According to her, around November, one could buy a sizeable chicken that could serve the family for N2,000 or N2,500 is now selling between N3,500 and N4,000. "The implication is that some families that hitherto used only one chicken may have to buy two, to be able to get enough for the their family. Most families may have to adjust their budgets or seek alternative sources of animal protein," she said. DELTA Ahead of the celebration, the unchangeable forces of demand and supply have greatly affected the market prices of goods and services in Delta State.
The back-slapping, hustling and bursting at marketplaces and shopping malls for last minute purchase have forced the prices of rice, chicken, vegetable oil, salt, pepper, tomatoes and others to skyrocket beyond the reach of consumers.
While a full size bag of foreign rice which was initially N28,000 rose to N34,000 this week, a bag of local rose from N18,000 last week to N26,000. Live chicken had become a 'no-go' area at the popular Ogbeogonogo Market in Asaba and Midwifery Market at Okpanam as the prices ranged from N4,000 to N8,000 depending on the size or weight. Vegetable oil, tagged, groundnut oil, soya oil and others have all increased in prices by N100 and N200 respectively, compared to last week. While One kg, which was initially N600, now sells for N700 to N750 depending on the brand, 3kg goes for N2,300 and N2,500 depending on the make.
Residents groaned as market prices shore-up. But civil servants heaved a sigh of relief as Governor Ifeanyi Okowa gave a matching order for the new minimum wage to be implemented in this December salaries. EBONYI The prices of goods have skyrocketed in Ebonyi State barely few days to Christmas. For instance, a bag of sachet water otherwise known as pure water which was previously sold for N100, is now sold between N150 and N180 in Abakaliki, the state capital.
The smallest size of tomatoes tin, which was sold for N50, is now sold for N70 while a bushel of rice which was sold between N5,000 and N6,000 is currently sold between N6,500 and N7,500. A chicken layer specie which was sold N1,700 is now N2, 000 while a broiler which was sold N2000 is now between N2,500 and N3,000. Despite the increase in the price of goods, consumers have continued to buy them.
A visit to some markets in the metropolis saw people in their numbers buying various items preparatory for Christmas celebration. Some of them said they had to buy the items now as according to them, the prices of the commodities will continue to go up. A resident of the state, Mrs. Nnenna Eze, lamented increase in the price of goods in the state. She said with the way things were going, it might be difficult for low income earners to afford items for Christmas celebration.
ABA Residents of Aba, the commercial nerve centre of Abia State, have lamented the rate at which prices of food items have skyrocketed barely few day to Christmas. Our correspondent went round food items lines at the Cemetery Market, Ahia- Ohuru, and Ehi Road Market and reports that prices of items like chicken, rice, vegetable-oil, tomatoes and even pepper increased abnormally. From our findings at the Ehi Road Chicken Market behind Christ the King Cathedral (CKC), Aba, chickens that were sold for N1,300 last week were now sold for N1,500 to N1,800.
In the same vein, the ones sold for N2,000 now sell for N2,800 to N3,000, while the ones that were sold for N3,800 to N4,000. For rice prices, Saturday Telegraph reports that a bag of foreign rice that were sold for N18,000 around November and were sold last week for N22,000, are currently selling for N25,000, while the Nigerian made rice currently sells for N₦19,000. KADUNA As it has almost become customary in many end of the year, prices of household commodities and food items are steadily on the rise in Kaduna markets.
A survey in some of the markets mainly Chechnya Market, Kakuri and Barnawa show that there is a slight increase going into the last week of the Yuletide. Before now a bag of rice sells for N19,000, it is now N22,000. While a measure of foreign rice is N750, its local variant goes for between N450 and N500 depending on the level of stones inside the rice.
A 25-litre of vegetable oil before the season, went for N11,000, but now sells for N15,000 while a basket of tomatoes went for N4,000 and had not really changed. A paint rubber of Fresh pepper sells for between N900 to N1,000 depending on the freshness and how it looks. A life chicken sells between N1,500 to N3,500 depending on the size and who is selling, while a tuber of yam goes for between N500 to N700.
Many of those who spoke with our correspondent volunteered that there was a steady increase in the price of foodstuffs, with others hoping that it would not get out of hand, owning to the what they described as the hard situation in the country.
However, in the case of beans, the prices seem to be coming down due to what the traders said was due to the harvest season. A bag of beans, which was sold for N22,000 before now is selling for between N20,000 to N19,000 in Kaduna. But a measure (mudu) of beans still goes for between N250 to N300 depending on the variety. Mrs. Monica Atodo, a trader in Kakuri Market, Kaduna South Local Government Area of Kaduna State told our correspondent that there had been an increase in prices of foodstuffs. She said: "This it is not much, just small price on top. It is normal, prices of foodstuffs will increase small. It has always been like that.
The main problem we are even having is that people are not coming to the market to buy things. But as we enter this weekend we are hopeful that sales will increase."
BENUE Food prices have soared in Benue State as workers lament non-payment of December salary some days to the Christmas celebration. It was also gathered that prices of food items in the markets have begun to shoot up drastically.
The increase in the price of the items came as civil servants are groaning over non payment of their December salaries by Governor Samuel Ortom to enable them to celebrate this year's Christmas. Saturday Telegraph's investigation at the high level, Wurukum, Wadata and North Bank markets on Thursday showed that rice, chicken, vegetable oil, tomatoes pepper and red oil witnessed a sharp increase as against the previous week when the prices were relatively cheaper.
It was gathered that a tin of local rice in the markets ranged between N6,500 to N7000; foreign rice between N9,000 and N10,000 chicken between N2,500 to N3,000 while four litres of vegetable oil was sold at between N3,500 and N4,000. Saturday Telegraph gathered from Wuruk u m Market that a small rubber paint container of tomatoes was been sold at N650 and N700, pepper between N800 to N1,000; while four litres of red oil was sold for N3,000.
The situation was not the case as at last week, when some customers rushed in to purchase the items in anticipation of an increase. Speaking to our correspondent, a widow, Mrs. Tabitha Tyoapine, lamented the increase prices of items in the market saying with the situation, she cannot afford to buy them to prepare for Christmas. ENUGU Investigations by our correspondent reveal that foreign rice (50kg) is N18,500 and N20,000, before but presently N23,000 to N25,000 (depending on quality/brand).
For (25kg), N10,000, to N11,000 before now but presently N12,500 to N13,000. Local rice (50kg Bushel) is N12,000, N12,500, before but presently sold N12,500 to N14, 000. For (1 Bushel) is N4,800 to N5,500, before but presently sold for N6,000 to N6,500, depending on quality. Palm oil of 20 litres is between N9,500 to N10,000 but with marginal increase of N100 to N200. 10 litres to N4,800 or N4,700. One bottle is N350 while cup is N100. Vegetable oil for a litre is N5 to N6 plus/minus N200. Three litres is sold for N2,500 to N2,900 previously but presently sold for N3,000 to N3,200.
Fresh Tomato:
There are large supply of fresh tomato in the market. A sizeable portion is now sold for N500 as against previous N1,000. Similarly, tin tomato (flat) is sold for N150, N180 to N200 depending on the brand. EKITI In Ekiti State, prices of food commodities remain stable except for vegetable oil that had an increase in the prices. For instance, there are two categories of rice- local and foreign. A bag of local rice ranges between N19,000, N20,000, N22,000 while foreign one goes for N25,000 to N26,000.
Cartoon of one litre of vegetable oil that has been N6,300 till last week, now goes for N7,800. Cartoon of Gino tomato satchet goes for N2,200. A kilo of turkey goes f o r N 1 , 6 0 0 , chicken N1,500. Incidentally, market women are lamenting low sales. A market woman, Mrs Dolapo Adewale, who spoke with our correspondent expressed worries at the rate with which buyers trooped into market to buy clothing materials and shoes rather than foodstuffs.
"Those selling clothes, shoes and other fabrics are getting more patronage than foodstuffs seller. The market was very dull for those of us selling food items, despite the fact that the price of most of the food items is stable," she said.
A resident, Mr. Olu Oye, said low patronage in the market is not without financial constraints, he however, added that cash crunch could not be an obstacle to the celebration "Reason for high patronage of fabrics is not farfetched, because of children and the young ones, even with lack of finance all around, one will celebrate with moderation," he said.
A civil servant, Ajayi Alero, said patronage in the market would shoot up as from weekend as workers would start receiving payment "Very soon, workers will start receiving payment and patronage in the market will increase, though things are expensive generally, but everything will be based on affordability." BAUCHI Like any other festival period in Bauchi State, this coming Christmas has it good side and the bad side as must residents of state metropolis are complaining and worried about the sudden changes on food items including onion that used to be cost N100 is now sold at N200.
Checks by Saturday Telegraph revealed that the price of rice has also been jerked up from the normal N400 to N600, while price of salt remains constant. Mrs. Hanatu Iliya, a resident of Yelwa community in Bauchi metropolis, expressed her worried that the rise in the food items would compel to her family to celebrate Christmas in the village to cut cost of other things. When asked, Alhaji Bello Yusuf, a food vendor in Yelwa market about the high cost on food items, he said the demand was high while the supply was limited.
"You know, many people are buying it for their families because of Christmas celebration and our supply remain same that is why we added to the prices. "We now sell vegetable oil at N2200 instead of N1,000 and same goes for tomatoes, N100 tomatoes now sold at N200. While chicken N1500 is now N2,500," he said.
Checks also revealed that transportation fare have not been increase as fuel price remain normal."
KWARA In Kwara State, market prices of foreign rice have gone up as Christmas is approaching from N23,000 to N25,000 per 50kg, while prices of local rice that sold for between N17,500 and N19,500 per 50kg have remained stable.
Depending on size, chicken prices range from N2,000 to N5,000 before but as Christmas comes in, prices have jumped to between N3,500 and N7,000. Prices of salt and vegetable oil have been stable at N3,600 per bag and N14,000 per tin, respectively before and now. Incidentally, tomato price has gone down from N2,500 to N2,200 per small bowl, while price of pepper per small bowl has gone up to N2,000 from N1,800.
Notwithstanding that prices of rice, chicken and other commodities have gone up, demands for them at this Yuletide season are very high and market women are making brisk business.
PLATEAU The prices of some food items have increased in Jos, the Plateau State capital.
Findings by Saturday Telegraph in Jos, revealed at the tomato market in Jos, that price of vegetable has gone up from what was obtainable last week. A bag of foreign rice that sold for N23,000 , now costs N24, 000. A bag of carrot that went for N5,000 is now sold for N10,000 to 13 000, while a big basket of tomatoes that was sold for N1500 to N2000, now goes for N2,500 to N3, 500.
Checks also revealed that a bag of onions that was sold for N10,000 before, now goes for N26000 while a bag of hot pepper that sold for N8, 000, now costs N10,000 The ordinary pepper that was sold for N5, 000, now goes for N8, 000. Also vegetable oil of 25 litres which was sold for N12,000 now goes for N14 , 000.
While 10 litres from N6500 to N8,000. Also, five litres goes for N3,500 as against N2 500. One of the sellers, Mr. John Gyang, said the situation was caused by high demand by customers and high cost of transportation. Another seller of rice blamed the Federal Government's closure of borders on the high increase cost of the commodities, stressing there was no more supply and the demand was high. Saturday Telegraph survey also revealed that there is high increase on the prices of chicken in the market, local chicken goes for N2 000 to N2 500, while broilers goes for N2 500 to N3 500.
RIVERS In Port Harcourt and its environs, the prices of rice, chicken, vegetable oil, and other commodities have increased by at least seven percent, fuelling complaints from residents in Rivers State. For residents who have been struggling to cope with the prices of rice, especially the foreign brand, the seven percent rise in the cost of rice has forced many to buy local rice.
While foreign brand like Royal Stallion sells for N23, 000, per bag the local brands sells for between N18,000 to N20,000. While live chicken sells between N1, 500 to N4, 500; four litres of sealed vegetable oil sells for between N3,000 to N3,500. The prices of tin or fresh tomatoes, salt, pepper and others have remained the same. Residents who spoke complained of inability to buy some of these commodities, especially rice.
"The problem is that there is no money to buy these foodstuffs. You get paid at work, but there are other expenses to take care of before foodstuffs, said Mr. Sotonye Douglas, who works as a store keeper in a construction firm.
ANAMBRA Residents of Anambra State, are lamenting the high cost of rice and live stock in the area. When this reporter visited the Eke, Awka and Onitsha main markets respectively buyers complained of astronomical increase in the cost of the commodities nothing that the costs are far cry from what it was last Christmas. Chief Okeke Izundu, a business man, told Saturday Telegraph, that: "The cost of local rice is between N15,000 and N17,000 while the cost of foreign rice is N25,000 per bag respectively.
Also depending on the size of the commodity, the cost of a goat is N30,000 and in some cases a goat is sold at N25,000 but last year it was around N20,000 and N15,000; depending on the size of the goat. But in the case of the local fowl, it is sold for N3,000 while that of agricultural now goes for N6,000 each but that was not the case last year, NIGER In Niger State, prices of Chicken and other food items, especially rice and groundnut oil have gone up as low patronage hits markets.
The hike in prices of rice and other items this year is attributed to the closure of border and ban on the importation of foreign rice. A visit to the Kure Ultra-Modern Market,
Minna, showed that the prices of food items especially rice and groundnut oil have increased as a bag of foreign rice which sold for less than N15,000 in 2018 now goes for N28,000 and a bottle of groundnut oil that sold for N400 now sells N450 and a gallon N14,000. While a basket of tomatoes from Zaria sold for N7,000, that of Jos sold for N10,000. A bag of onion has skyrocketed to N30,000 from its previous N12,000 while the price of pepper ranges between N15,000 and N18,000.
The prices of chicken are between N1,500 and N3,000 depending on their sizes. When our correspondent spoke to a civil servant, David Yisa, he said, "December salary has not been paid; hopefully before Christmas eve (Tuesday) the government may pay us. And my family understands that things are hard now and they will bear with me". Another worker who identified himself as Mrs. Veronica Ebbo, said despite the present economic situation they would still celebrate the Christmas but on a low key. OYO A 50kg bag of foreign rice in Ibadan markets costs N17,000 with some selling for N16,000 depending on their qualities. Local rice costs N14.000 per bag.
The prices do not significantly differ from what it used to be a week ago. Depending on their sizes, and places of purchase. chickens sell for between N3,000 and N4,000 in markets. The prices increased a bit from what it was a week ago. Prices of beverages and cooking ingredients have slightly increased because of the rush by people to stock their homes ahead of the Christmas. BAYELSA With just four days to Christmas, the prices of foodstuffs in the market in Yenagoa, the Bayelsa State capital, have increased although a little.
A trip by Saturday Telegraph to Swali Market showed that prices of some things have increased ahead of the Christmas celebration. Although the prices of rice that were as of last two weeks higher than now have reduced, as bags of some local rice which dominated the market differ. Live chickens like broilers were sold for N4,000, old layers go for N2500, smaller broilers go for N3,000. Vegetable oil Kings five liters go for N3,500, mamador goes for N2,800 golden penny goes for N3000. Palm oil now goes for N700 for big bottle as against N600. A basket of fresh tomatoes go for N18,000 as against N28,000 few weeks ago, small one goes for N9000 while a basket of pepper is N6000 while small one goes for N2800. Clappa tin tomatoes carton goes for N2800, star Maggi packet goes for N450, big sachet of salt goes for N200 from N150.
But even as things were not as expensive as expected, the market was not as busy as it should be just few days to Christmas. Madam Preye a tomatoes seller who spoke in pidgin English said there were no customers. She said: "Customers are not coming. By this time last year, we had made a lot of sales but this year I don't know. Let's hope that next year will be better when the new government takes over."
Another woman, Madam Vivian Aganab, who was just trying to buy a live chicken, maintained that "Things are not too expensive this year compared to last year's but there is no money to even buy the few things that are cheap. "If I manage to buy this chicken now, I will go and secure it against 25th because I know that by then, it will add more money."