Award-winning Afrobeats Star Burna Boy is headlining a concert in South Africa, just two months after he vowed never to return to the country because of xenophobic attacks against Nigerians and other nationalities.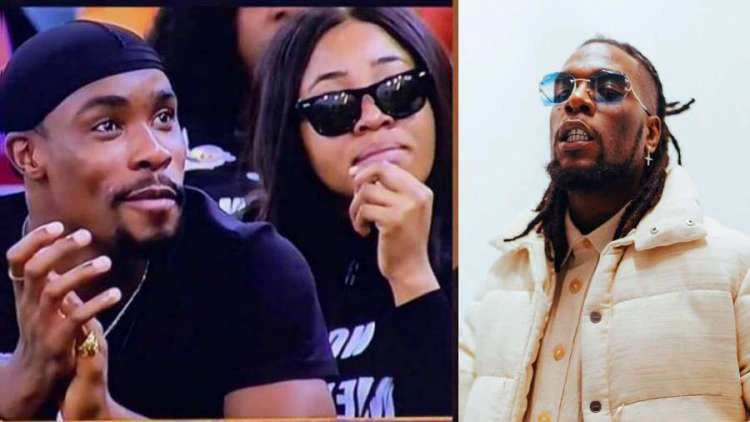 He has gone on Twitter to say he is not afraid to be killed in South Africa supporting a cause he believes in which is One Africa. He responded directly to tweets asking him not to come to South Africa. He says he will be in South Africa and anyone that wants to stop him will have to kill him.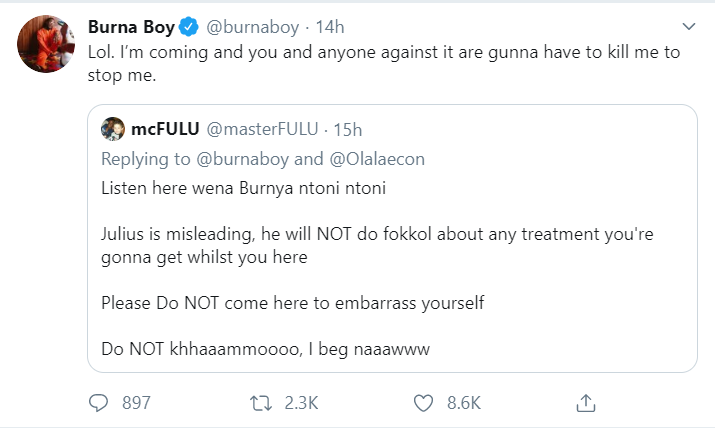 Burna Boy was part of some drama on Twitter with South African based rapper AKA and a few other musicians who made comments that could have escalated tension. He urged black foreigner nationals living in South Africa to defend and protect themselves against xenophobic attacks. In a now deleted tweet, he also told AKA to beef up his security, before giving him the middle finger.
Since the November 23 event was announced, he has been getting threats to his life and this past week AKA took to his Twitter account to ask him to apologise for his statements.
AKA said SA took Burna Boy in "before he reached these levels" and challenged the Naija star to prove he is an "African giant" by apologising.
"Ek se ... Burna Boy. All we want is an apology. We know SA is not perfect, but we took you in as our own before you reached these levels. You say you are an AFRICAN GIANT, prove it," he wrote.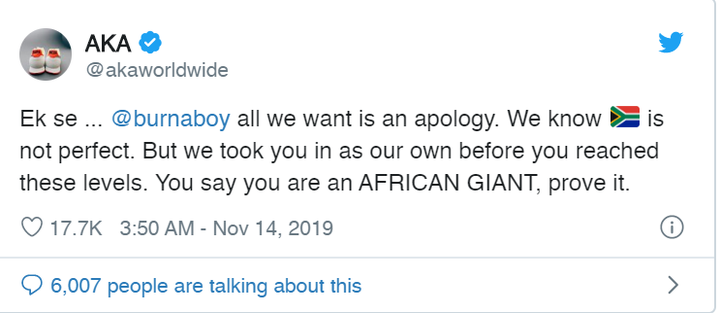 The Tshwane Entertainment Collective, a group of artistes in South Africa recently wrote a letter to the Minister of Arts and Culture, Nathi Mthethwa, wherein they urge him to prevent Burna Boy from performing in the country citing a number of reasons:
"We first inquired to the minister and to the department to say, what is this all about? How is this happening? How are you guys supporting this? Then further to that we asked how are you supporting an event that also includes... so not only are you failing us with funding but you are also supporting an event that includes an artist who has threatened violence to fellow South African artists."
Support has come for Burna Boy from one of SA's national leaders Julius Sello Malema.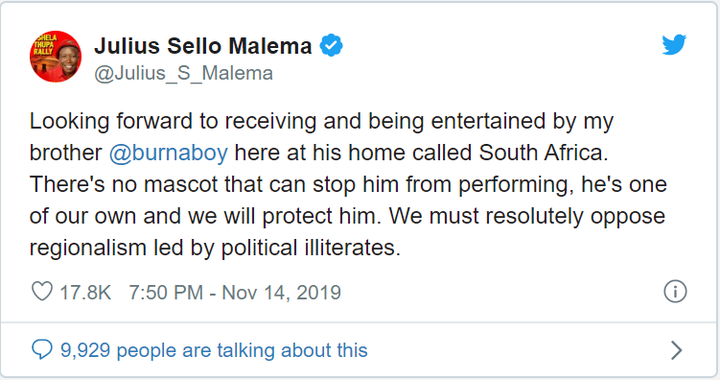 Burna Boy responded thanking Malema and also saying he loves South Africa but he loves Africa more.